There are many different types of cooling garments and options available. The best one for you depends on you, your environment, your activities, and your individual needs.
We offer the full range of options, and we are happy to help you decide which is best for you. Compare them below, and please call our Ohio based customer service at 1-800-763-8423 if you have any questions.
---
First a quick guide of the major choices:
The Most Popular Option for a broad range of purposes.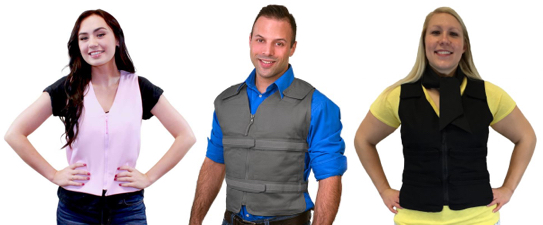 Climate: Any humidity, any temperature
Activity: Living life, outdoor activities, indoor activities, cooking in the kitchen, travel, horseback riding, exercise, discreetly wear under clothing, occasions you want to hide the vest, Outdoor work of any kind, and many more!
Cooling Pack Based Garments
---
Least Expensive Option and limited environmental fit; However, in the right climate it is very effective and lightweight!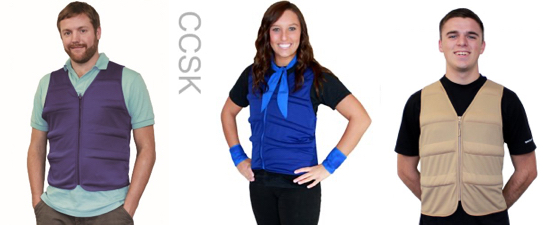 Climate: Low humidity climate, not recommended for high humidity climates. Also excellent when a source of cool water is readily available for re soaking.
Activity: Sports, outdoor activities, and any situation where a little dampness is OK
Water activated cooling garments
---
High end cooling, very efficient, lightweight, expensive and with limited mobility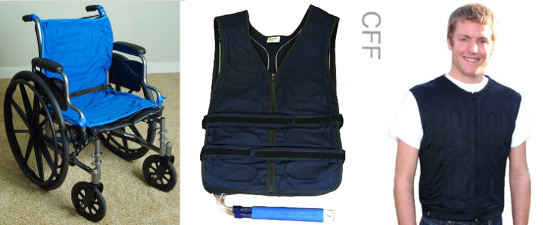 Climate: Any humidity, any temperature
Activity: When high end cooling is desired, and the body being relatively stationary in one place is OK. Works well at fixed workstations, race cars, when prescribed by doctors, on vehicle seats and with chairs and wheelchairs (with a battery pack).
Circulating Cold Water System