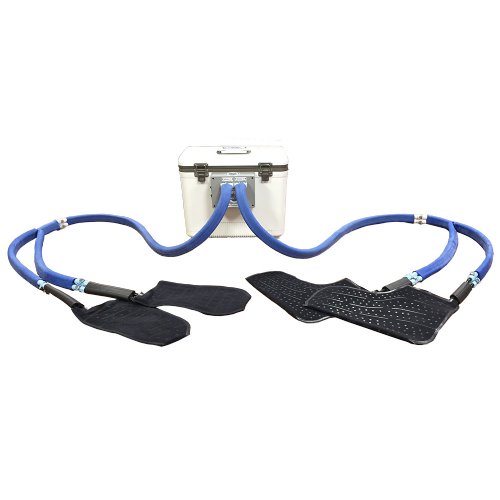 According to studies
1
, using a cold therapy system on your extremities during chemotherapy can reduce the nail and skin toxicity associated with docetaxel and improves the quality of life of the patient.
Note: Always consult your healthcare professional before using any cold therapy system.
Patient Testimonial:
"We have 3 sessions left(at Chemo today) out of 12. No signs of any peripheral neuropathy at all so very successful. Having the 3 straps is essential to get it tight around her feet. Hands are no problem. We usually start at 4 then turn down to 3 as it gets too cold for her. We start 15 minutes before the Taxol, a one hour infusion and then 15 minutes after. Total time, 1 1/2 hours. We plan to donate the unit to our infusion center. Not sure if you have reps but I would recommend calling on the infusion centers as this probably could be covered by insurance and every woman getting Taxol could use this."
Research Cited:
"Chemotherapy-induced toxicity adversely affects patients' quality of life and limits the dose of chemotherapy that can be administered. The dermatologic complications of cancer chemotherapy can result in significant morbidity, cosmetic disfigurement, and psychological distress. In this study, the use of an FG reduced the incidence of nail and skin toxicity associated with docetaxel 75 mg/m
2
administered every 3 weeks, either alone or in combination with other cytotoxic agents. Eleven percent of the FG-protected hands developed nail toxicity with dyschromia, but no onycholysis; this result compared favorably with the unprotected hands, 29% of which developed dyschromia (grade 1) and 22% of which developed onycholysis (grade 2). The FG delayed the median time to occurrence of nail toxicity (106 days) compared with non-FG-protected hands (58 days). Similarly, the incidence of skin toxicity of the FG-protected hand was reduced by half. The incidence of nail changes observed in the unprotected hands in this study are consistent with those reported for docetaxel"

1. Multicenter Study of a Frozen Glove to Prevent Docetaxel-Induced Onycholysis and Cutaneous Toxicity of the Hand
Florian Scotté, Jean-Marc Tourani, Eugeniu Banu, Michel Peyromaure, Eric Levy, Sandrine Marsan, Emmanuelle Magherini, Elisabeth Fabre-Guillevin, Jean-Marie Andrieu, and Stéphane Oudard
Journal of Clinical Oncology 2005 23:19, 4424-4429