(also includes Autonomic Dysfunction, Automatic Neuropathy, Postural Orthostatic Tachycardia Syndrome (POTS), Neurocardiogenic Syncope (NCS), Ehlers-Danlos Syndrome, and Multiple System Atrophy (MSA))
Dysautonomia is an umbrella term used to describe several different medical conditions that cause a malfunction of the Autonomic Nervous System. The Autonomic Nervous System controls the "automatic" functions of the body that we do not consciously think about- a primary example being temperature control.
Some different forms of dysautonomia include Postural Orthostatic Tachycardia Syndrome (POTS), Neurocardiogenic Syncope (NCS), Ehlers-Danlos Syndrome, and Multiple System Atrophy (MSA). (From dysautonomiainternational.org).
With more than 30 years of experience in manufacturing cooling garments for people living with heat intolerance, we hear from many individuals on how our cooling products have helped them live a happier and more enjoyable life.
"I bought this Cool Comfort® Hidden Vest for work. I work in an aquatic center and my uniform shirt is 100% polyester. Since it's started hitting the 60s outside, I've been miserable (I have dysautonomia). This vest does a good job of keeping me cooler. I also like that i can wear it my undershirt and work polo and no one can tell it's there." – Ashton in Virginia
"I bought this vest for my husband, who is 6'3" and wears a 3XL. He has dysautonomia, chronic migraines, and fibromyalgia. He does not handle hot weather well. He is also an automotive technician, so he works in a hot shop and often times over a hot engine. He has only been wearing the Kool Max® vest for a week now, but he is absolutely in love with it. It fits him well, is comfortable to wear at work and he is much cooler with his vest." - Barb K. in Wisconsin
Heat Related Issues with Dysautonomia and the inability to sweat:
When you don't sweat (perspire), your body can't cool itself, which can lead to overheating and sometimes to heatstroke.
Heat-related illnesses are serious complications of anhidrosis. Children are especially vulnerable because their core temperatures rise faster than adults', and their bodies release heat less efficiently. Heat-related problems include heat cramps, heat exhaustion, and heat stroke. Source: Mayo Clinic
Also, as noted in the research study abstract titled, An Innovative Cooling Jacket to Combat Heat Intolerance in Children with Anhidrosis, the authors stated: "Hyperthermia and heat intolerance are distressing symptoms in patients with anhidrosis. Body cooling devices are an integral part of management of these patients." Source: PubMed.gov.
Non-Profits:
The information on this site is not intended or implied to be a substitute for professional medical advice, diagnosis, or treatment. Please consult a licensed healthcare practitioner before using any hot/cold therapy or body cooling product for a medical condition.
The following products may help: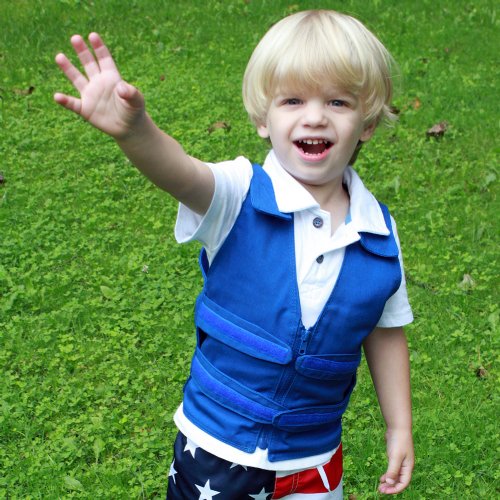 See our complete line of toddler and children cooling garments