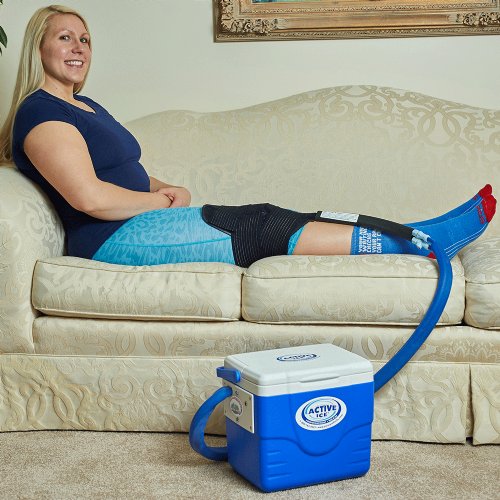 Polar's Active Ice® 3.0 Therapy System (#AIS) circulating cold water therapy system provides effective treatment for reducing pain and inflammation and facilitating recovery.
Specifically designed for drug-free pain relief after injury or post-surgery!
Our comfortable and easy-to-use cold therapy system is great for knees, shoulders, back, hips, ankles, elbows, calves, limbs, and more.
Our Active Ice® 3.0 System includes an electronic digital timer and on/off switch.
The digital timer allows you to set your treatment duration, with your doctor's recommendation, in increments of 30 minutes.
The timer is a critical safety feature!
Our systems come with the largest cooling reservoir available
, including our standard nine (9) quart, and optional fifteen (15) quart. The larger the reservoir, the more ice it will hold, and the longer time between adding ice. Most competitive systems do not tell you the reservoir size because they are small (usually around 4 quarts).
With twice the reservoir size and twice the ice, Polar's is designed to get you through the night!
Our leak-proof quick disconnect couplings allow the bladder to be detached from the system at any time during treatment to allow movement as needed.
Add Polar's compression wrap for a gentle and adjustable compression and also easy installation of the U-Shaped Bladder on the target body part.
What our customers say about the Active Ice® 3.0 System:
"

I bought this to use post shoulder surgery, and let me tell you it's been great! It reduces the pain significantly and the timer is very useful. I look forward to when I can use it and can't imagine not having it." -

Roman R in Virginia



"My Active Ice ice-o-lator (that's what we call it) is as important to my recovery from shoulder surgery as the pain meds. It cools my shoulder, reducing the pain I experience, and reducing the inflammation, which allows for quicker healing. Get one before your own surgery. You'll be glad you did. Disclaimer: I have received nothing from the manufacturer, distributor or anyone else other than the

machine

that I paid for." -

David in California
"This system is a MUST for anyone who wants to accelerate their post-surgery recovery time. Using it has led to less pain and swelling." -

Barbar
a in VA
"Purchased the product(AIST-U-KAW), received it within 3-4 days, excellent quality, works great, great value." -
Robert in FL
Features:
Electronic Digital Timer can be set per your doctor's recommendation for maximum safety

Multiple bladder and compression wrap options for many different body parts including

back, knee, hip, foot and ankle, hand and wrist, shoulder, elbow, neck and other specific applications

A double bladder system will easily run off our standard system

Professional, high flow, dry quick disconnect couplings

Optional adjustable temperature flow control for maximum comfort

Compare our system to other major brands!