Why you should choose the Active Ice® 3.0 System:
Our patent-pending timer and temperature flow control allows you to set custom cold therapy "on" and "off" duration cycles, per your healthcare provider's instruction. A critical safety feature! The timer also allows you to choose from 4 coldness levels depending on your comfort and desire.
Our systems come with the largest cooling reservoirs available on the market. Choose between our standard 9-quart reservoir with carrying handle or our 16-quart reservoir with wheels and retractable handle.
The larger the cooling reservoir, the longer your cooling will last! Our systems are the only ones that can hold frozen 500 ml (16.9 oz) standard size water bottles instead of ice! They will last longer, and are reusable and convenient. No emptying of melted ice water from the reservoir each time it needs recharged!
Our cold therapy pads provide excellent coverage of the affected area. Included and/or attached elastic and Velcro belts provide comfortable compression while the insulated outer fabric directs maximum cold therapy to the target areas.
All systems are shipped same day if ordered before noon (EST) or next day if ordered after noon (EST).

---
All Body-Part Specific & Universal Systems
Polar Products provides cold therapy systems designed for specific areas of the body, as well as universal systems designed to be used anywhere.

All of our
cold therapy pads
can be purchased individually. Deliver localized cold therapy to the patient either at home or during his or her hospital stay. Check out our selection of body-part-specific and universal therapy pads!
Our
compression wraps
provide a comfortable compression when used with our universal therapy pad. The wraps also ease the placement and attachment of the pad on the specific body part.
We have all the
accessories
needed to customize your Active Ice® System to fit your individual needs!

---
Compare Us to Other Systems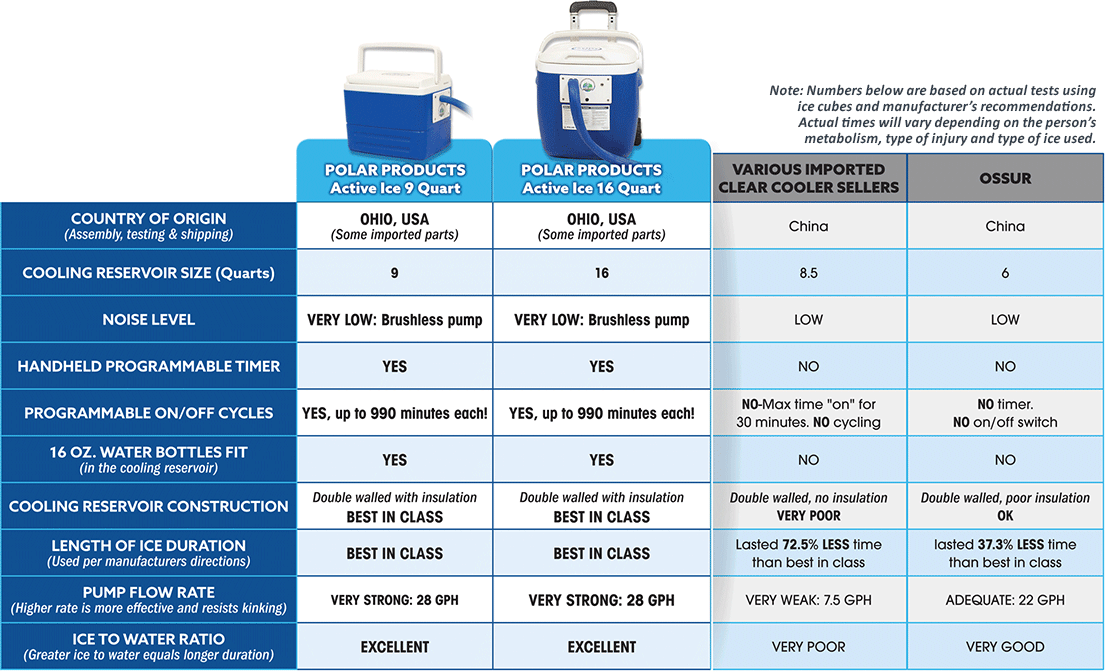 ---
Active Ice® 3.0 Cold Therapy System Instructional Video
To view all of our videos for the Active Ice® 3.0 System, click here.
---
Active Ice® 3.0 Cold Therapy System Resources
FSA & HSA Questions: Learn more about Flex Spending Account (FSA) and Health Savings Account (HSA) eligible products.
Insurance Questions: We do not bill insurance. You should contact your provider prior to placing your order to see if they will cover the products you require.
Active Ice® Instruction Manual: The manual includes everything from step-by-step instructions to troubleshooting your system.
---