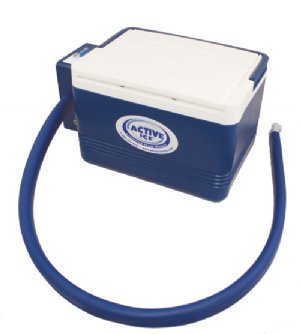 Specifically designed for post-surgery, drug-free pain relief! Our comfortable and easy-to-use cold therapy system is great for knees, shoulders, back, ankles, elbows, calves, limbs and more.
"This unit has been my life-saver this weekend along with drugs! . . . I did not realize there was a timer, a very important factor for healing. I am a nurse and we see many patients who have self-inflicted nerve damage due to constant icing of an extremity. This, too, has been a life-saver. Thank you for a very fine product." Linda, R.N. Leadville, CO
"This system is a MUST for anyone who wants to accelerate their post-surgery recovery time. Using it has led to less pain and swelling." - Barbara in VA
Click here to read more Active Ice® System testimonials.
Active Ice® Compression Wraps(Back to Top)
Optional compression wraps make the system even easier to use! The Universal U-Shaped Bladder connects to the wraps with Velcro®. The wraps hold the bladder comfortably, provide a gentle compression and insulate the targeted area.
Price: $20.00
Rated:





Price: $20.00
Rated: